A unicorn party is always full of magic and joy. Invitations, cards for a unicorn celebration. It is the theme of the moment
For the party, you can not miss the invitations, choosing an attractive invitation will help the guests enter the atmosphere and as soon as they see them, they will imagine how fabulous the meeting will be. Choose and customize one of our unicorn designs for birthdays, baby showers, XV years, pajamas and baptism for girls.
Unicorn Party Invitations
We show you the best creative and original unicorn invitation, card, template design ideas for different types of celebration.
Here you will find many ideas, templates, molds to make your unicorn party super original.
Unicorn Birthday Invitations
20 unicorn invitation designs for birthday you just have to choose the model you like the most, remember that all our unicorn invitation templates are editable. Most popular unicorn images some examples, kawaii unicorn invitations, unicorn horn and ears invitations, rainbow unicorn invitations, gold unicorn invitations, unicorn silhouette invitations.
Unicorn Baby Shower Invitations
Baby shower is a celebration on the occasion of the birth of the Baby. It is a party where the main protagonist is your Baby. It is a unique and beautiful event where the unicorn baby shower invitations will give a magical touch to the event.
Unicorn Baptism Invitations
The Baptism is an event of the Christian faith in which two things occur on the one hand the girl's name is celebrated and on the other hand the Baby begins her path of religious devotion.
Unicorn Quinceañera Invitations
The 15 years are very important for every girl, her transition from girl to woman is celebrated. Quinceañeras are waiting for a magical night, mythical dream and what theme more magic than unicorns, We have a nice collection of 6 invitations for unicorn xv.
Best Unicorn Quotes Images
We have the best super original Unicorn Quotes ideas to print, fun, creative, simple for our little ones, very easy and free.
Printable Unicorn Cupcake Toppers
Unicorn Cupcake Toppers are a great addition to any candy bar. They are labels that add to the decoration of birthday party. Beautiful and Magical unicorn template design.
Unicorn Bingo Free Printable
Children and adults want to play bingo and have fun all the time. We show you the best ideas, activities, creative and original so they can be distracted at the party both outdoors and inside the room or place.
Free Unicorn Water Bottle Labels
Printables Unicorn water bottle can not miss at your next unicorn party, our selection will help you in organizing the unicorn treats table, we give you many original and creative ideas to make it easy and affordable.
Unicorn Invitations to Print in High Resolution or Share Online

All our invitations, cards, frames, patterns, virtual sheets can be downloaded, edited, shared electronically by any social network (Facebook or WhatsApp, Instagram etc.) or printed on your printer. They also have excellent image quality for printing.
With this tender unicorn celebration you will get an atmosphere full of magic, laughter and joy.
How to Make Unicorn Party Invitations
We teach you how to make a unicorn invitation, how to edit it in pdf format, print it what type of sheet and format is recommended for printing, how to modify the font sizes and how to send it online through social networks.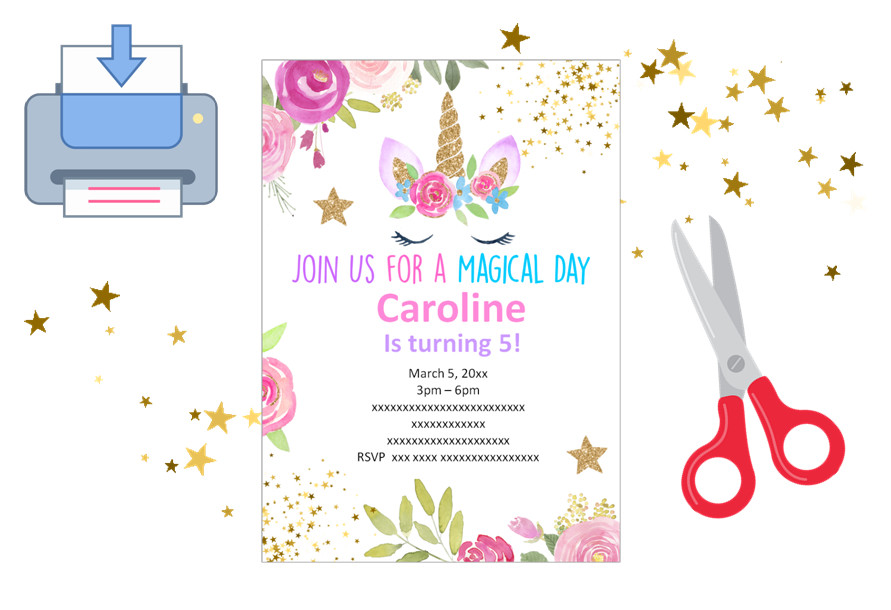 Free unicorn party invitations to Edit
We have many format examples of editable, modern and elegant unicorn invitation designs in white without text to fill some examples unicorn invitations for 3 years old girls, xv unicorn invitations for teens and women, with feminine colors and rainbow theme etc.
We also have many styles of invitation the most sought after, unicorn birthday invitations, Baby unicorn invitations, kawaii unicorn invitations, rainbow unicorn invitations, unicorn shaped invitations, for 1 year (first year), 3 years, invitations of unicorn xv, unicorn baby shower invitations, unicorn invitations for christening and sleepover.
How to Throw a Unicorn Party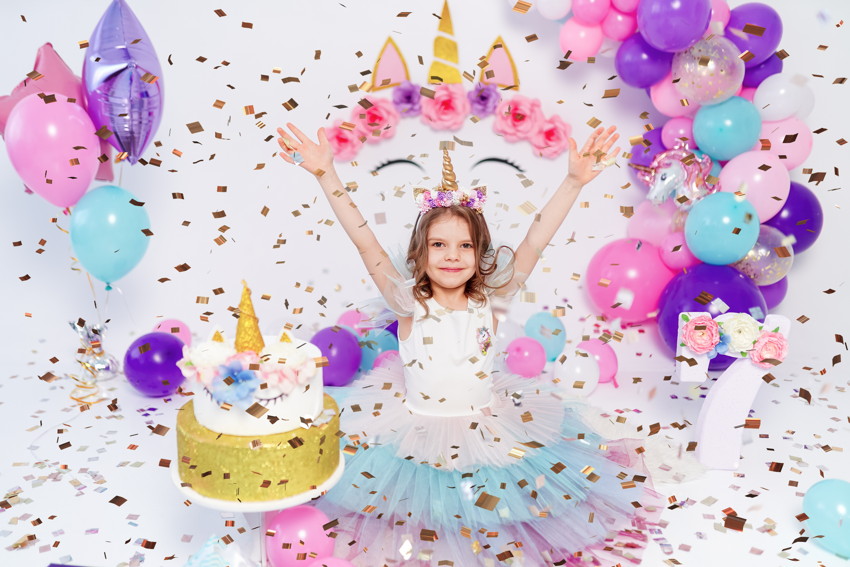 The Unicorn is the most incredible magical creature of all; the origin comes from Greek Mythology. It is an animal similar to a horse but with the particularity that it has a horn on its forehead. The unicorn arises from stories, tales and films generated by man. Currently, the unicorn takes center stage thanks to the boys and girls who love this magical being.
Do you want to celebrate a magical and fun Unicorn party?
Steps for organizing a unicorn birthday:
1 Unicorn Invitations
It is best to ask the girl who you want to invite. Make a guest list from all sectors like school, neighbors, and family in order to print the right number of unicorn invitations. Also remember to add the familiar adults of the children.
When we have defined the number of people invited it is time to print and send the invitations officially. You can send digital invitations by WhatsApp to the parents of their friends and we also recommend sending invitations on paper, since the honoree will participate and hand deliver to her friends will be a nice experience for your girl. You will remember that unique moment, always delivering a personalized paper card with the name, date and time will be somewhat more formal and will help parents not forget the party.
2 Where to celebrate a Unicorn birthday party for children?
The place depends on the number of guests and budget you have. Another factor to take into account is the time of the year in which it is celebrated, since in cold or heat many options vary. You can choose to choose a children's room where you rent the space or the most practical and simple thing is to do it in a living room of your house, garden, etc.
3 When to have a children's Birthday Party? What day is better?
In order for the party to be full of guests we need to host the party on a comfortable day and time that parents are available to pick up and drop off children. The party should not start too late or too early. 16:00 is a good time. Weekend Saturdays and Sundays are the most popular days, since almost everyone is available in case they cannot make the birthday on those days we recommend Friday as an option.
4 What kind of food to put on a children's unicorn birthday
What you put on must be popular with children. They love chips, bag snacks, and sandwiches. To drink you can make some juices or buy ready-made cola, orange or lemon.
Recommendations to ask if any guest has a food allergy in case it is something common directly do not buy it and if the allergy covers many foods talk to the child's mother to take the necessary precautions. Also be careful with food that can choke.
Some parents stay at the party, so we recommend making a section of more old things to share and have a pleasant conversation.
All this food and drink must be put on plates, glasses, trays of the unicorn theme will give personality to your birthday party.
5 How to decorate a children's unicorn birthday party
An excellent idea is to choose and decorate a space or wall of the party with the theme of unicorn, focusing on a space makes things much easier for us, since it is cheaper, cheaper and we can easily cover the spaces. Basic things to decorate are the pennants, balloons, spiral decorations, pom poms, fans, lanterns, die cuts or garlands will give a great color to the unicorn party.
6 Unicorn cake for a children's birthday
You can buy the unicorn cake or make it at home. The Cake is always the central point of the table and it cannot disappoint, it is the favorite moment of the children, so that it is a really magical moment we have to play with the food that is, it must have a surprise effect, to amaze all the children we can make a large cake with a cute unicorn shape, the filling can be rainbow colored, or have a special type of filling we have infinite options, children will be super excited it will be an unforgettable moment.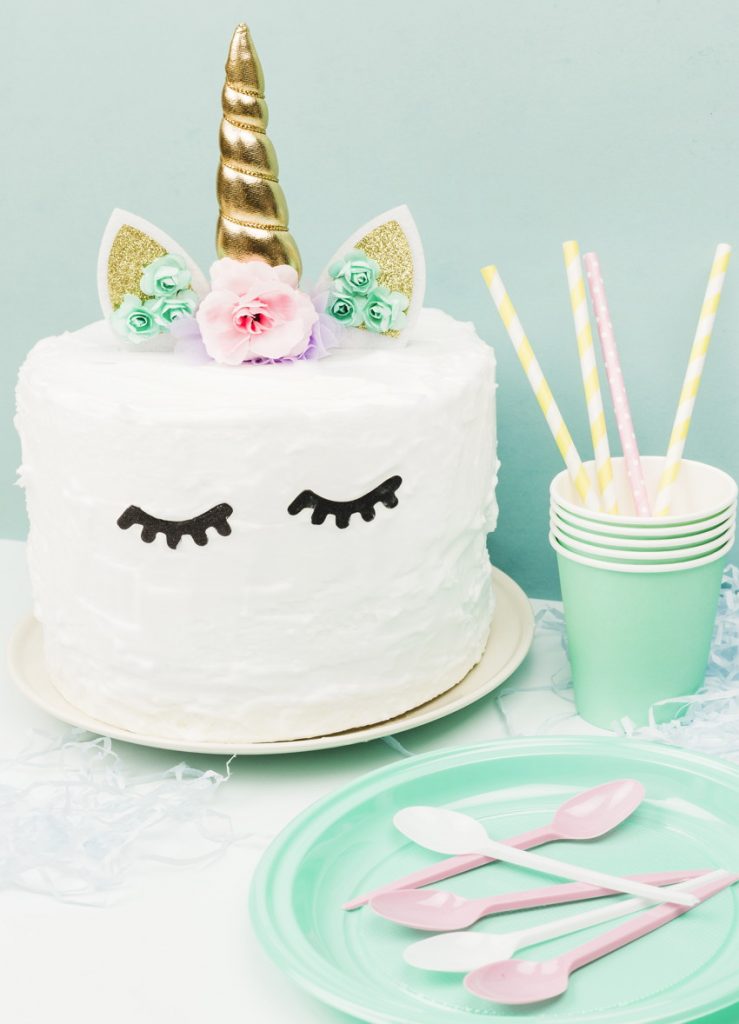 7 Children's Unicorn Candy Bar
A unicorn candy bar is one of the things that little ones like the most. A child who does not like sweets will be a creative and original element that we can incorporate into the unicorn party. We just have to set a table with bowls, trays, box and more with a variety of sweets. Candy bar to eat and enjoy!
We have the best collection of digital unicorn invitation images with different motives, creative and original to print or share online for free.
We recommend this beautiful website specialized in Birthday invitations online free